Today for Mothers Day, we decided to go to Seaside, to see the new boardwalk, improvements, and what has been done since we went in December. We got into the parking lot across from the Sawmill at 1:57, we then got out and started to walk the boards. In seaside park, where the boardwalk is not as open as in Seaside Heights, there is the original wood of the board walk still that was protected by the buildings. The new board walk looked great, with the fresh wood, but it was only half open, so the work, police vehicles could get through. We only went in Lucky Leo's because everything was so crowded, it seemed even more then the summer! We walked until you can't anymore, which is where Casino Pier starts, where the boards are still currently being placed. We then walked down into the street, to go look at the Star Jet rollercoaster. We went into a bar, that had and balcony right by the coaster, it was not Aztec, but a street after Aztec. We then walked back and ate at the Sawmill. I got a Sawmill Burger with fries. The menu was VERY limited, obviously guessing why, but they had what i always get, and that taste brought back some summer memories! Sad to see my first loop coaster gone in Fun Town, but i will always remember the first time when i was 8 with my dad going on it and having the best experience of my life. That coaster was the start of my coaster obsession. We left at around 4:30, and it was a great day!
Where the coaster used to be.
Fun Town entrance.
The Beach Bar is gone from my last visit! But will re open in 2014!
Old sky ride station.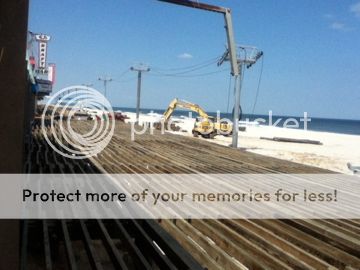 Broken Skyride, unfinished portion of boardwalk.
Crews hard at work! and Star Jet.
New skyride station is being built.
Casino Pier.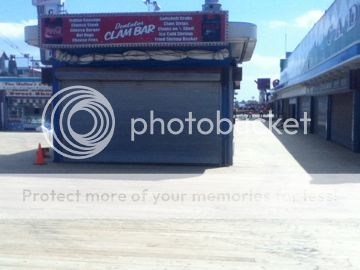 Finished, but not open yet.